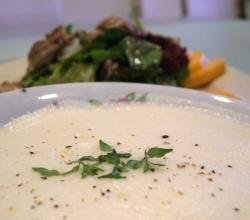 Here's a delicious soup that every child in Greece loves (especially when Yia Yia makes it!) This is Miss Mary's quick-and-easy take on the classic recipe -- it takes a little less time to prepare than the "orthodox" version (pardon the pun). She makes the longer and more involved version on special occasions. Miss Mary uses organic ingredients when she makes this at home. Included here is the recipe itself, as well as a downloadable PDF. Yassou!
Miss Mary's Avgolemono Soupa (Quick Version)
2 32-oz (1 quart) containers of chicken broth
2 eggs
Juice of 1 lemon
¼ cup rice or orzo
Salt and Pepper to taste
Heat 1 container of broth to boiling.
Cook pasta or rice in the broth per directions on the package. You'll end up with quite a bit of broth left over – it will not all be absorbed.
Use the second container of broth to thin the soup to your liking.
Remove from heat, cool for 4 minutes, stirring occasionally.
While you're waiting for the soup to cool, blend two eggs and lemon juice in a blender on medium speed till frothy.
Now here's the tricky part: Bring the pitcher over to the pot of broth. Hold the pitcher in one hand and a ladle in the other. Now SLOWLY pour the egg mixture into the very hot (but no longer boiling) broth, while simultaneously ladling some of the broth back into the pitcher. The idea is to gradually raise the temperature of the eggs – if you simply pour them into the broth,

they will curdle

! The final mixture should be very thick and smooth.
Salt to taste.
ALL children in Greece love this soup! Adults usually grind some fresh black pepper into it.
This is the quick-and-easy version of the soup. There is a longer version to come!
Click here for the easy-to-save and easy-to-print PDF: Avgolemono Soup.pdf
1 comment
§ ALBA CRESPO said on : 03/27/11 @ 13:20

Miss Mary ... thank you so much for this recipe I will give it a try as it seems easy. Great way to keep us all healthy! Abu
This post has 77 feedbacks awaiting moderation...

Comment feed for this post
Comments are closed for this post.